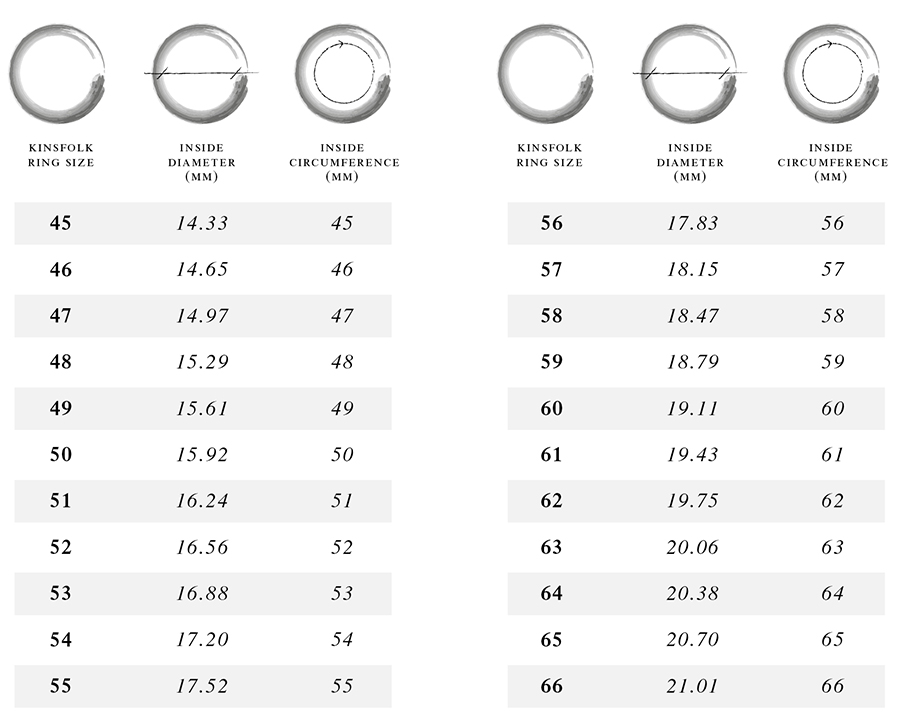 WHAT'S MY RING SIZE?
Take a ring that you already have and measure the rings inner diameter by measuring straight across the ring with a ruler. Read the inside dimensions in millimeters. If you do not have a ring you can measure the circumference of your finger. Put a string or paper around your finger and measure the circumference in millimeters. The number of millimeters corresponds to your size.
Here are a few steps to make your measurement more accurate:
Finger size changes depending on the time of day and the weather. For best results measure your finger size at the end of the day and when your fingers are warm
Your ring should fit your finger comfortably; snug enough so that it will not fall off, but loose enough to slide over your knuckle.
Remember that the two hands differ slightly in size; a ring worn on a finger of the left hand will not be a perfect fit for the same finger on the right hand.
Be careful when measuring. Measure finger size 3 to 4 times to eliminate an erroneous reading. Remember that one millimeter corresponds to a full size.
If you are hesitating between two sizes, choose the larger size. Please note that the style of the ring will also affect the choice of size: a bulky ring is made to be worn more loosely than a smaller model.